Exclusive to members, we operate three powerful accreditation schemes, all designed to help our members on their journey to Net Zero whilst supercharging your sales to make the process profitable, opposed to a cost.
CERTIFIED

GREEN ™

Uniquely creative in its design, our bespoke service is for members of all sizes who want us to make the products or services they sell become environmentally friendly by accrediting them CERTIFIED GREEN ™

How it Works:

We match your business and marketing needs with our environmental projects of tree planting, fruit tree planting, forest preservation and / or internationally recognised carbon offsetting projects, to certify them Green.

Products: From a car, to a meal, to double glazing installation, to a tin of paint to anything physical you sell, we can Certify them Green by linking them to our exciting environmental projects.

Example: We plant a tree for every meal sold / policy you take out with us.

Services: From an insurance policy, to a haircut, to a funeral plan, to a writing a will, to any service you provide, we can Certify them Green – get imaginative with your marketing and we'll make it happen.

We can also CERTIFIED GREEN ™

Your business

Your vehicles / fleet

Your events

Your business travel
Talk to our team to see how we can
Supercharge
your sales today from £250.
Contact the team now on

info@aosb.org



Carbon
Neutral Accreditation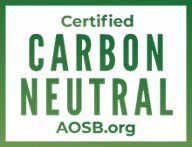 We offer the only simplified small business Carbon Neutral accreditation scheme in the UK, aimed directly at helping SME's with low C02 emissions including small businesses with under 15-tonnes, to become certified carbon neutral.
BRONZE
Open to: All owner-operated micro SME's with less than £150,000 turnover.
Accreditation with up to 15-tonne carbon offset £495
Per tonne offset thereafter £10
SILVER
Open to: All member SME's with up to 10 staff.
Accreditation with up to 25-tonne carbon offset £695
Per tonne offset thereafter £10
GOLD
Open to: All members with 11 – 50 staff.
Accreditation with up to 50-ton carbon offset £895
Per tonne offset thereafter £10
PLATINUM
Open to: Members with over 50 staff.
Price based on tonnage and project £Enquire
How it works:
Our Carbon Accountants establish your business carbon footprint using The Greenhouse Gas Protocol Corporate Reporting and Accounting Standards and the Department for Environment, Food and Rural Affairs (DEFRA) annual UK Government Conversion Factors for Greenhouse Gas (GHG) Reporting, which are the most widely used and globally recognised standards. We then offset your carbon footprint with a basket of high quality, internationally audited and verified Carbon Credits.
Bronze and Silver covers all business scope 1 & 2 C02 emissions (meaning all direct and indirect emissions from the use of purchased fuel for vehicles – petrol, diesel, electricity, and for gas and electricity for heating and cooling of premises).
Gold covers all scope 1 & 2 as above, plus part of scope 3.
Platinum: We can accredit larger business members, but they will have likely already undertaken an independent Carbon Audit or Carbon Footprint Assessment, have a robust carbon reduction plan in place and know their full carbon footprint across scope 1,2 and 3.
Contact us today to become Carbon Neutral accredited in days, not weeks!
Climate Positive Accreditation
Beyond Carbon Neutral is our highest accreditation, Climate Positive.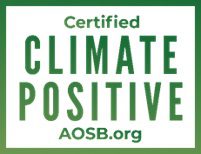 Climate Positive is achieved when a business offsets more greenhouse gases than they emit, which is hugely beneficial to the planet and environmentally awesome!
With a robust carbon reduction plan in place, YOUR business can become certified 'Climate Positive' when you offset at least 120% of your carbon footprint across scopes 1, 2 and 3 with us.
Any Questions?
We'd love to hear from you so email info@aosb.org for more information on membership or our Accreditation and labelling.
For more information on our international tree planting and forest preservation and carbon offsetting projects, please click here Projects